Who We Are & What We Do
Our office was born in 2007 shortly after Mason signed the American College and University Presidents' Climate Commitment, which committed Mason to achieve carbon neutrality by 2050. We use the strengths of George Mason University – innovation, responsiveness, flexibility, and community strength – to provide leadership in environmental, social, and economic stewardship on our campuses and throughout the local and global communities of which we are a part.
It's 2022 and we're still working every day to make Mason more sustainable.
We were the first institution in the state of Virginia to earn a 'Gold' rating from the Association for the Advancement of Sustainability in Higher Education (AASHE) in 2014 and we just received our third 'Gold' rating in a row in January 2021. Our collaborative efforts are recognized by industry leaders: 9 features in Sierra Club's 'Cool Schools' ranking and 11 consecutive features in The Princeton Review's 'Guide to Green Colleges.' There are too many accomplishments to share, so you can learn more about the impact we're making here.
Make Your Sustainable Impact
We provide students with opportunities you can't find anywhere else.
Volunteer or intern with our Greenhouse and Gardens program across three sustainable food production sites, receive grant funding from our Patriot Green Fund for your sustainability-focused research or infrastructure projects, and live sustainably by participating in our Campus Efficiencies program's composting and Green Residence programs.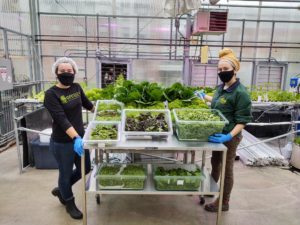 Plant Lover? Gardener? Grower?
Support student learning by purchasing plants and seedlings from our Greenhouse & Gardens secure online marketplace. Proceeds support opportunities for students to learn about sustainable agriculture by volunteering and completing for-credit internships!