Mason Impact builds on Mason's institutional strengths and our location outside the nation's capital to offer our real-life experiences in solving real-world problems.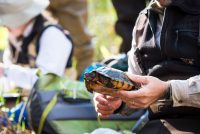 Prepared to Act
Today's college graduates face an employment market remarkably different than their predecessors. Critical thinking, flexibility, creativity, and resourcefulness are essential to success in the world outside of academia. Mason's 2014-2024 Strategic Plan responds to these needs by setting a goal for 75 percent or more of undergraduate students to pursue projects that deploy these soft skills in real-world challenges.
Projects are intended to solve high-impact problems with large-scale consequences such as sustainability, urban resilience, public health, etc. Funding for these projects is available through Curriculum Impact Grants – evaluated within George Mason University, and proposed by Mason faculty and students.
Existing Programs that Incorporate Features of Mason Impact:
Engaged Citizen
Well-Rounded Scholar
OSCAR: Office of Student Scholarship, Creative Activities, and Research (Undergraduate Research and Creative Activities
Prepared to Act
Beginning with the first Curriculum Impact Grants awarded in Fall 2017, Mason will continuously add to the docket of programs, building out a full generation of innovative curricular ideas that will enhance cross-unit, multidisciplinary undergraduate and graduate curriculum development activities.