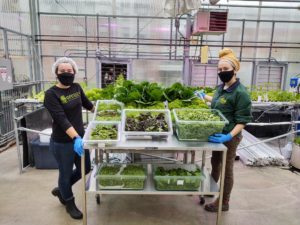 Have you ever wanted to grow food sustainably for yourself and others? Join University Sustainability's Greenhouse and Gardens Program for in-person and hybrid internship opportunities!
We provide you with one-on-one mentorship from Doni Nolan, our sustainable food systems expert, who will equip you with the knowledge, tools, and resources you need to create a sustainable future.
In our program, you will learn how to:
compost with worms and aerobically
prepare garden beds and harvest crops
sow and transplant seedlings
use and design hydroponic systems
solve pest issues using organic methods
create marketing materials
conduct scientific research
organize and communicate data
actively engage in sustainable landscape design
and support a thriving farm-to-table sustainable food operation
In addition, you will hone your leadership skills by supervising and supporting volunteers in the Greenhouse & Gardens Program across our three sites: Potomac Heights Organic Vegetable Garden, Innovation Food Forest, and the Presidents Park Hydroponic Greenhouse.
Earn Academic Credit & Gain Hands-On Experience
Earn Academic Credit!
If you are an Environmental Science & Sustainability (EVSS) major, please refer to the integrative.gmu.edu website for further info.
If you are not, ask your advisor if the internship could count toward your degree program, either as a practicum/internship or as an upper-level elective.
Gain Hands-On Experience!
Grow leafy greens at the Presidents Park Greenhouse (located near Ike's) served by Mason Dining on campus. You can work in any weather since it's shaded, ventilated, and automatically heated.
As weather allows, experience the outdoor gardens at the Innovation Food Forest and the Potomac Heights Vegetable Garden where fruits, veggies, and herbs are grown, including strawberries, pumpkins, mint, and more!
Start Earning (Academic Credit) and Learning!
If you want to learn more and/or intern with us, email dnolan6@gmu.edu to express your interest in this amazing internship opportunity. When you click Doni's email address, a pre-filled email message will open for you – just press send!
Read more about the Greenhouse and Gardens Program at Mason.
This internship is eligible for University Career Services' unpaid internship scholarship, which provides interns with scholarships of up to $1,000. Read more about the scholarship and apply on HandShake.
Not interested in an academic internship? You can still learn practical skills and knowledge by volunteering with us in-person or virtually, no prior experience necessary. Create your free account today. All of our volunteer shifts count towards service learning hours for class.