Meet Our Staff
The Office of Sustainability's offices are located in the Northeast Module 2 on Fairfax Campus, across from the Rappahannock Parking Deck and Hamptons Road residence hall.  Contact us at gogreen@gmu.edu to get connected with us!
Sarah
D'Alexander
Sustainability Program Manager – Patriot Green Fund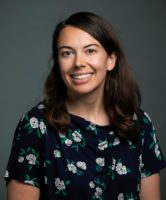 Sarah joined the Office of Sustainability in 2019 where she manages the Patriot Green Fund, a grant designed to support the Mason community with projects that help build a culture of sustainability on its campuses.
Prior to Mason, Sarah worked as the Lead Coordinator at the University of Maryland's Office of Community Engagement where she created mutually beneficial and collaborative partnerships with community stakeholders as well as organized an annual, large-scale day of service. Sarah has a Graduate Certificate in Leadership and Management from University of Maryland Global Campus and received her B.A. in Biology and Environmental Studies from Ohio Wesleyan University. While an undergraduate student, she created the university's first major waste diversion program that collected over 20 tons of reusable items. After graduation, Sarah served as a Team Leader in AmeriCorps NCCC where she traveled the country to work with different nonprofit organizations in their missions of energy conservation, environmental stewardship, agriculture, and disaster relief. Sarah is also trained in organic farming practices from her time working as an apprentice at Crown Point Ecology Center in Akron, Ohio.
Doni
Nolan
Sustainability Program Manager, Greenhouse & Gardens
Donielle Nolan (Doni for short) has been at Mason for almost 10 years. She started out as a student in 2010, studying biology and volunteering as the president of the GMU Organic Gardening Association (GOGA). She joined the Office of Sustainability in 2013 as the summer intern for the Potomac Heights Organic Vegetable Garden (PHVG) and later as the assistant coordinator for the Permaculture Design Certification Course (PDCC).
After working all summer in the garden, she knew that growing food was her passion. In 2014, she was hired part time to start the hydroponic greenhouse program at the President's Park Greenhouse. The facility is still going strong today, hosting hundreds of volunteers every semester, and growing lettuce, microgreens, and culinary herbs year round, which are served in the dining halls on campus. She became full time staff in 2016, and began managing GOGA, the PHVG and the Innovation Food Forest (IFF), in addition to the hydroponic greenhouse.
Once she received her Masters of Science in plant science and pest management in 2018, Doni began teaching sustainability courses as adjunct faculty for the School of Integrative Studies. Her passion and joy is contagious as she engages and educates the community about sustainable food production, composting, herbal medicine and so much more. If you would like to get involved with the Greenhouse & Gardens Program, or have a landscaping related project idea, please contact Doni at dnolan6@gmu.edu, or find her in the campus gardens during the weekly volunteer shifts.
Amber
Saxton
Sustainability Program Manager – Campus Efficiencies
Amber manages various campus efficiency and zero-waste initiatives to reduce Mason's footprint including in buildings and energy, waste reduction, and alternative transportation. She handles data analysis and reporting that make the business case for more sustainability projects. Her team works with partners to build sustainability awareness and advises departments and stakeholders how to green Mason. She is also an Adjunct Professor for Mason's School of Integrative Studies and the Coordinator and a Faculty Liaison for the Environment & Sustainability LLC.
Amber got her start in the sustainability field at the Alliance to Save Energy. As a Research Associate she worked on projects that included energy efficiency (EE) and EM&V policy; EE best practices and implementation in new and existing buildings, and their O&M; alternative transportation; Energy Star's ratings framework; water and energy systems; US-China eco-city exchanges; and climate change adaptation/ mitigation. Contracts included those for the World Bank, US DOE, USAID, APERC, among others. Amber has an M.A. in International Relations from Seton Hall University, and a B.A. in International Studies from Ohio University. Formative experiences included a graduate internship at The Clinton Foundation; consulting-for-credit for Proctor & Gamble; and studying abroad in Mérida, Mexico.