The Office of Sustainability's offices are located in the Northeast Module 2 on Fairfax Campus, across from the Rappahannock Parking Deck and Hamptons Road residence hall.  Contact us at gogreen@gmu.edu to get connected with us!
Sarah

D'Alexander
Sustainability Program Manager – Patriot Green Fund
Biographical Info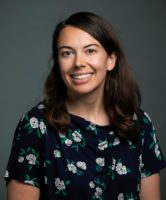 Sarah joined the Office of Sustainability in 2019 where she manages the Patriot Green Fund, a grant designed to support the Mason community with projects that help build a culture of sustainability on its campuses.
Prior to Mason, Sarah worked as the Lead Coordinator at the University of Maryland's Office of Community Engagement where she created mutually beneficial and collaborative partnerships with community stakeholders as well as organized an annual, large-scale day of service. Sarah has a Graduate Certificate in Leadership and Management from University of Maryland Global Campus and received her B.A. in Biology and Environmental Studies from Ohio Wesleyan University. While an undergraduate student, she created the university's first major waste diversion program that collected over 20 tons of reusable items. After graduation, Sarah served as a Team Leader in AmeriCorps NCCC where she traveled the country to work with different nonprofit organizations in their missions of energy conservation, environmental stewardship, agriculture, and disaster relief. Sarah is also trained in organic farming practices from her time working as an apprentice at Crown Point Ecology Center in Akron, Ohio.
Student Staff