2021
New Hire
Fox Williams was hired winter 2021 to coordinate the Innovation Food Forest and has since then improved the site immensely. He dug up and replaced some of the storm drain trenches in the main walkway that were eroding, which helped reduce stormwater run-off significantly. He created three compost towers with temporary materials that improved the aesthetic, speed and ease of our composting practices. He has added many blueberry bushes and performed some pruning that has transformed the site for the better.

2019
Composting Coffee Grounds
We have started an effort to reduce Mason's landfill waste by collecting spent coffee grounds and soiled pizza boxes to be composted in the Innovation Food Forest. Volunteer to help with this initiative by creating an account on our volunteer website and signing up for one of the Zero Waste shifts.

2018
Grafting

We partnered with GOGA to host a grafting workshop in February, taught by fruit tree expert Eliza Greenman. We learned how to add branches of fruit varieties to existing trees. The crabapple tree located in the Innovation Food Forest is leftover from the normal landscaping of campus before the Food Forest got started. We decided to leave it for future grafting with edible apple varieties. Now is the time for grafting those delicious fuji apples!
We have several apply varieties and other fruits too (like peach, nectarine, plum, pear, apricot, etc.) to graft onto existing trees. The workshop was held in February, but grafting can be done almost year round. So if you want to  give it a try or learn more come volunteer and get grafting!
UPDATE Summer 2018: The actual grafting was done long after the workshop, when it warmed up in late April and May, but while the trees were still blooming (sap moving upward in tree). The scions were stored in the fridge until then. The trees were first pruned to 2/3 the size and then grafted soon after (preferably on a dry day, with sterilizer for your blades and hands). Our only surviving grafts were those on the edge of fresh cut limbs from a Bradford pear stump and a large crabapple tree.
2017
Composting
We will be offering the compost pile for public use. Do you want to compost your biodegradable waste but don't have a yard? Be sustainable and drop off your waste in our compost bin! Coming soon are signs that will explains the do's and don't's of composting, as well as lead you to the location. Keep an eye out for our new signs when they arrive in January!
Weeding Manual
Students and interns have helped to create a comprehensive manual for identifying and removing invasive weeds. It is a work in progress, but you can check it out on Google Drive.
New Bench
A bench has been added to the food forest and it was dedicated to a fraternity brother who loved to work in the food forest and lost his life. White roses were planted by the brothers near the bench to represent their fraternity.
2016
New Employee
Donielle Nolan took over the staff position for the Innovation Food Forest in May 2016. She leads volunteers to help her maintain the site on a weekly basis from March to December. She is adding more plants every spring and fall to fulfill the design created by Jonathan Storvick and is currently updating the maps he made to reflect the new changes.
Signage
Museum quality signs were added to the food forest to help visitors identify edible parts of the plants and learn about their medicinal and nutritional benefits.
9/11 Day of Service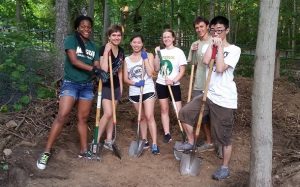 We turned the huge compost in the woods near the food forest. Help out each year and make a difference in your community. Visit 911day.gmu.edu to participate.
2015
Berms and Swales
Comfrey, poppies, and clover were planted along constructed berms to slow stormwater, retain water, and irrigate the plants.
2014
First Designated Full Time Staff for the Food Forest
Jonathan Storvick was hired by University Sustainability to create a comprehensive design for the future of the food forest, develop the design and maintain the site year round. He added beautiful stones and wood logs to the edges of the beds, added hundreds of plants that he grew at his own nursery, and contributed immensely to the project overall. His full manual guide, and maps of the beds can be viewed on Google Drive.
May 31, 2014 — Late May Garden Party
We cleaned up the garden nicely and didn't have to spend time watering thanks to the rain a couple days prior. It made weeding fun instead of frustrating and we even pruned back some shrubs to keep them from taking over the SE corner.
Volunteer hauling dogwood clippings off to the compost pile
Event details:
Join volunteers at the Innovation Food Forest while we enjoy the Spring weather and get a head start of weeding the garden before the weather warms up. Join us to learn plant species, assist with trellis construction, and generally have fun!
April 12, 2014 — Work Day - Introduction and Spring Planting
What a success! With a dozen volunteers, we were able to take the 125 plants that Earth Sangha delivered in the predawn hours and get them all planted and watered in between 10am and 3pm. We even managed to fit in a break for pizza! We used up respectable quantities of soil building manure, leaf mold and mulch that the facilities Grounds Shop kindly delivered for us. We also had volunteers get a jump on weeding so we don't get overwhelmed in a month when the temperatures really start to warm up. All the hard work that was put in will give these plants a healthy start so they have a chance to establish roots before the hot weather comes our way. Check out our photos on Flickr.
Planting natives along woodline
Spiral Mulch path taking shape

Event details:
Spring pruning, planting, mulching and an introduction to the Innovation Food Forest. Whether you have volunteered before or if this is your first encounter with the garden, everyone is invited. Please come by and learn how it got started just over 1 year ago and what you can to do help it succeed. Meet volunteers from the Student Government (participating in a campus beautification day) and other like minded volunteers from the local community. Make connections, and have fun. We order lunch if more than 10 volunteers show, so bring your friends! Tour of the garden starts at 10:15am and lasts about 30 minutes. Parking passes for the Mason Pond and Shenandoah parking decks are available in limited quantities to visitors.
February 22, 2014 — Work Day - Spring Pruning Exercise
We had several volunteers show up and learn basic thinning and pruning methods. The Virburnum had no chance. Look at how much more air circulation we've given them with the proper pruning. If we didn't have the messy ones next to the lock box to compare, you'd never know that we did anything!
Event details:
Volunteers will begin renovation pruning of the Viburnum close to the East side of the building. For beginning learners. Learn about the difference between a thinning cut and a heading cut and how to properly prune shrubs for long term health and vigor. Get rid of those hedge clippers and pick up a pair of bypass pruners to learn how to do it right!
2013
Sheet Mulching
Sheet mulching is used to turn turf into garden beds. Apply cardboard over the grass, then cover it with several inches of leaf mulch, straw, compost and wood mulch. Always keep pathways designed for access, such as keyhole shapes, swirls and S's.
Drainage Pathway
The French drain system has been created! There are perforated pipes wrapped in landscape fabric underneath the river stones shown above to collect rainwater and avoid runoff in the pathway.
Pathway Construction
The construction of the pathway was intense and also a major design and grant project, funded by the Patriot Green Fund and supported by University Sustainability staff.
Planting
Planting fruit trees and shrubs were one of the first additions to the Innovation Food Forest. Elizabeth Torrens chose to start the food forest after she was inspired by the Permaculture Design Certification Course in 2012.