Patriot Green Fund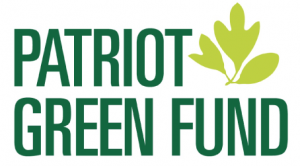 The Patriot Green Fund (PGF) strives to foster an environment where Mason can flourish academically in part through practicing environmental, social, and economic stewardship. This fund seeks to finance projects that have a high value in all three of these areas of sustainability. The fund works to raise awareness of and support for building a culture of sustainability on campus and in our communities. The PGF empowers students by providing them with an unprecedented opportunity to lead and direct projects that will create positive change. To strengthen the Mason community, all Mason students, faculty, and staff may propose and/or participate in a PGF-supported project. Infrastructure projects may only occur on Mason's campuses, but research projects may help solve problems in any of Mason's surrounding communities or the Metro D.C. region in general.
PGF Basics
In the summer of 2011, the Mason administration approved the creation of the Patriot Green Fund (PGF), which is a $100,000 per year sustainability fund that is devoted to making Mason's campuses more sustainable through facility improvements and student research projects. One of the most unique and innovative components of the PGF is the emphasis it places on student participation. Students not only comprise the majority of the PGF Committee, but can also directly apply for funding to lead their own projects when supported by a mentor. This site provides details about the fund's eligibility, application process, and deadlines. In addition there is extensive information on the fund's origin, the PGF Committee and its incredible members, and current and past PGF projects. If you have questions, please do not hesitate to contact a member of the Committee.
PGF Goals
The Patriot Green Fund operates with three distinct goals:
Enable students to conduct research and implement scholarship-related projects that demonstrate environmental leadership and benefit the Mason community and surrounding region.
Reduce Mason's environmental impact by making tangible improvements to habits, facilities and operations.
Improve understanding and awareness of, and support for, sustainability issues for the entire Mason community, leading to a strong community network and stewardship.
The fund is managed by a Committee of five students, two faculty and two facilities staff. The Committee is responsible for processing and approving applications, marketing the PGF, and giving individual attention to each project to support its success.
Important News
The Patriot Green Fund has introduced a whole new set of applications and application guides to help streamline the processes of applying for funding. This will make our processes much easier to navigate, so before applying for any funding, please review all the new files on the Apply for Funds page!
Applications for the 2018/2019 school year will open in September. All are invited to apply for PGF Quick Fund during the summer months. The Quick Fund submissions, which are less than $1000, will be accepted and reviewed on a rolling basis.
Please check out the Frequently Asked Questions page for answers to all your burning questions about the PGF.
Our new Quick Fund Awards process allows faculty and students to apply for small grants (less than $1000) that will support experiential learning in the same semester (or the break just before the semester begins). Please read the Quick Fund Application for more info about this process, and submit projects as early as possible to ensure funding source is secured.